New generation of ankle tape, for better ankle support and stability
M7 Sport Tape is a kinesiology athletic ankle tape for ankle sprain, working similar with a compression wrap
The NEW Innovative Kinesiology Ankle Tape Benefits
Recovery - Stabilisation - Injury Prevention
Instant pain relief
Inhibits the pain receptors in your body by the lifting action of the kinesiology tape and relieves pressure directly on them under the skin. Great for a variety of ankle issues: ankle pain, ankle sprain, swollen ankles, Achilles Tendon pain, Plantar Fasciitis pain
Reduce swelling and inflammation
Quicken the reduction in joint swelling, bruising and inflammation, by lifting the skin and creating pressure under the tape. Increases the space under the skin, enhances blood and lymphatic circulation, and drain lymphatic fluid away from the injured area quickly.
Adjustable Ankle Support
Provide strength and stabilisation for injured ankles, using criss-cross adjustable straps that makes it very comfortable to wear. Gain extra support for your weak ankle, help to accelerate healing and reduce the risk of re-injury
Breathable and Waterproof Ankle Tape
Our kinesiology ankle tape is made of elastic premium cotton fibers, very thin, designed to last through humidity, sweat, showers 3-5 days of wear, getting the maximum benefits of it. The adhesive is latex-free and hypo-allergenic, offering comfort and wearability for a longer period.
Precut Unique Shape
Easy to apply and easy to use kinesiology tape without the need of scissors or any asisstance, easier to handle just following the steps from the box or watching the video how to apply
Suitable for all kind of sport activities
Best ankle tape for running and trail running, hiking, jogging, soccer, tennis, handball, working out or any high-risk sports for ankle strains.
The right way to use M7 Sport Tape
General advice
Before applying the tape, clean and trim excess hair
Avoid touching the ends of the tape
Apply it 30'' before any sports activities or training
Our ankle brace can be used 3-5 days with maximum results
To remove the tape, you can apply baby oil, it will help dissolve the adhesive for easy removal
Choose your ankle tape color
Order TODAY from Amazon
Safe shopping, quick delivery and easy returns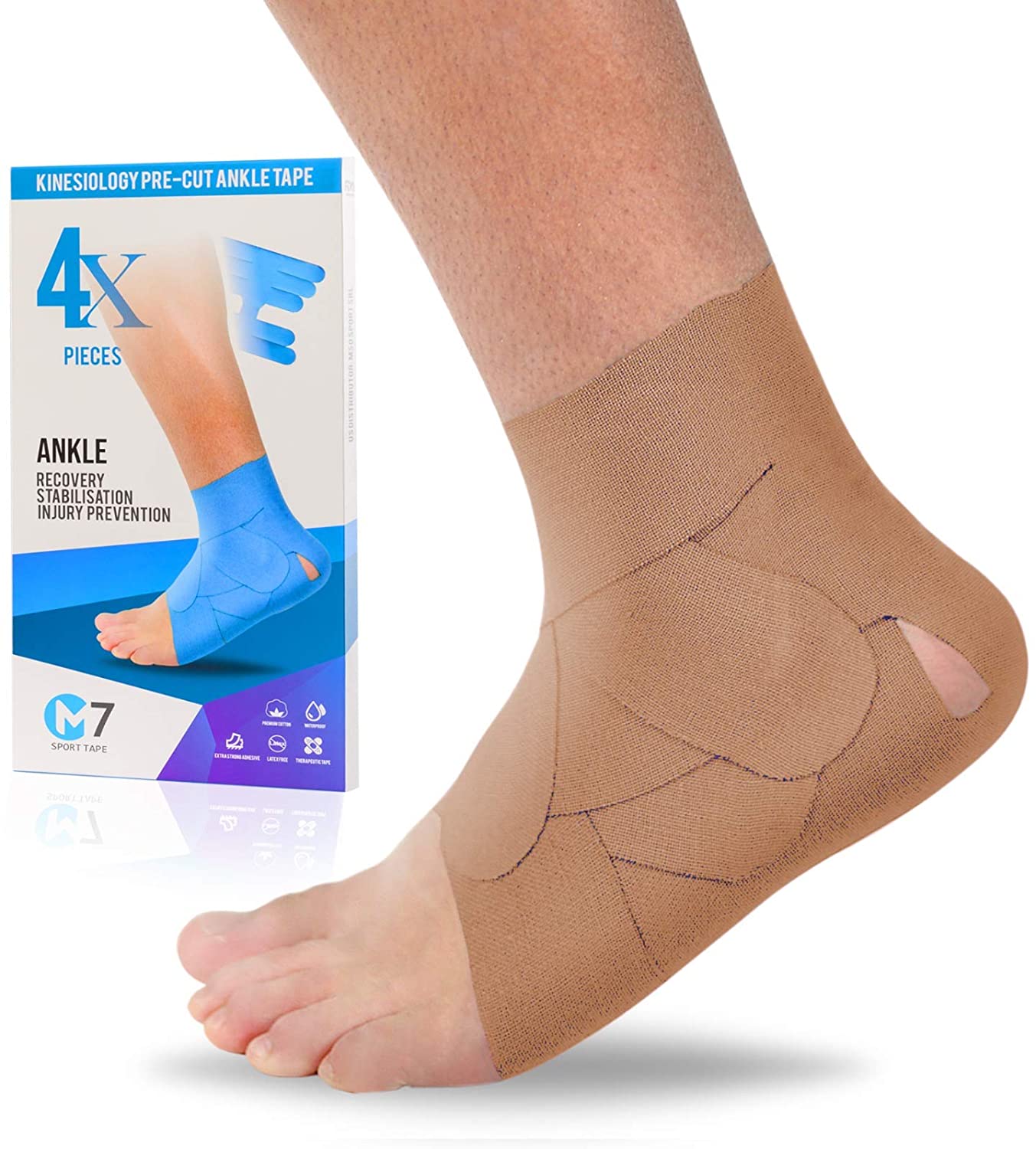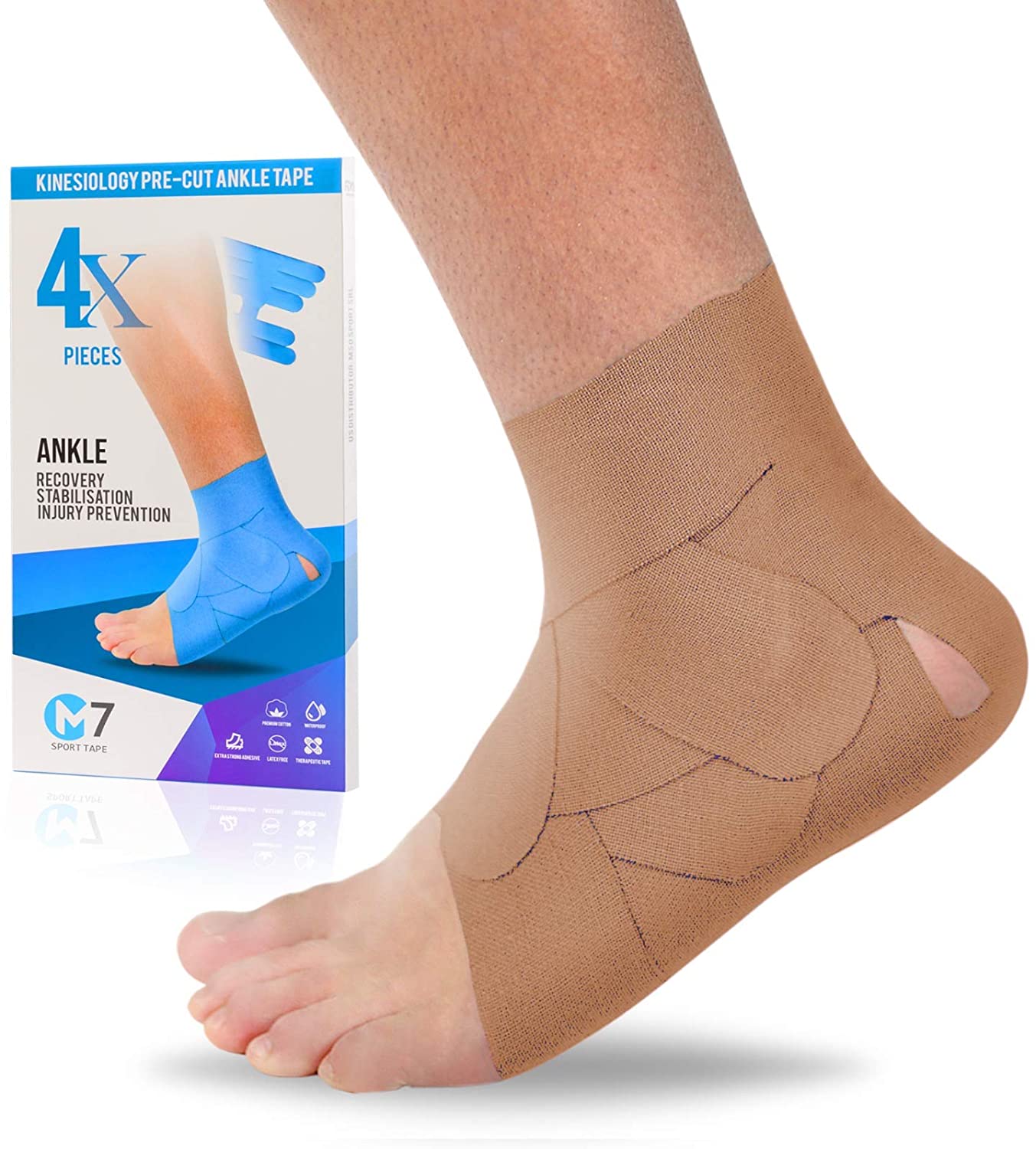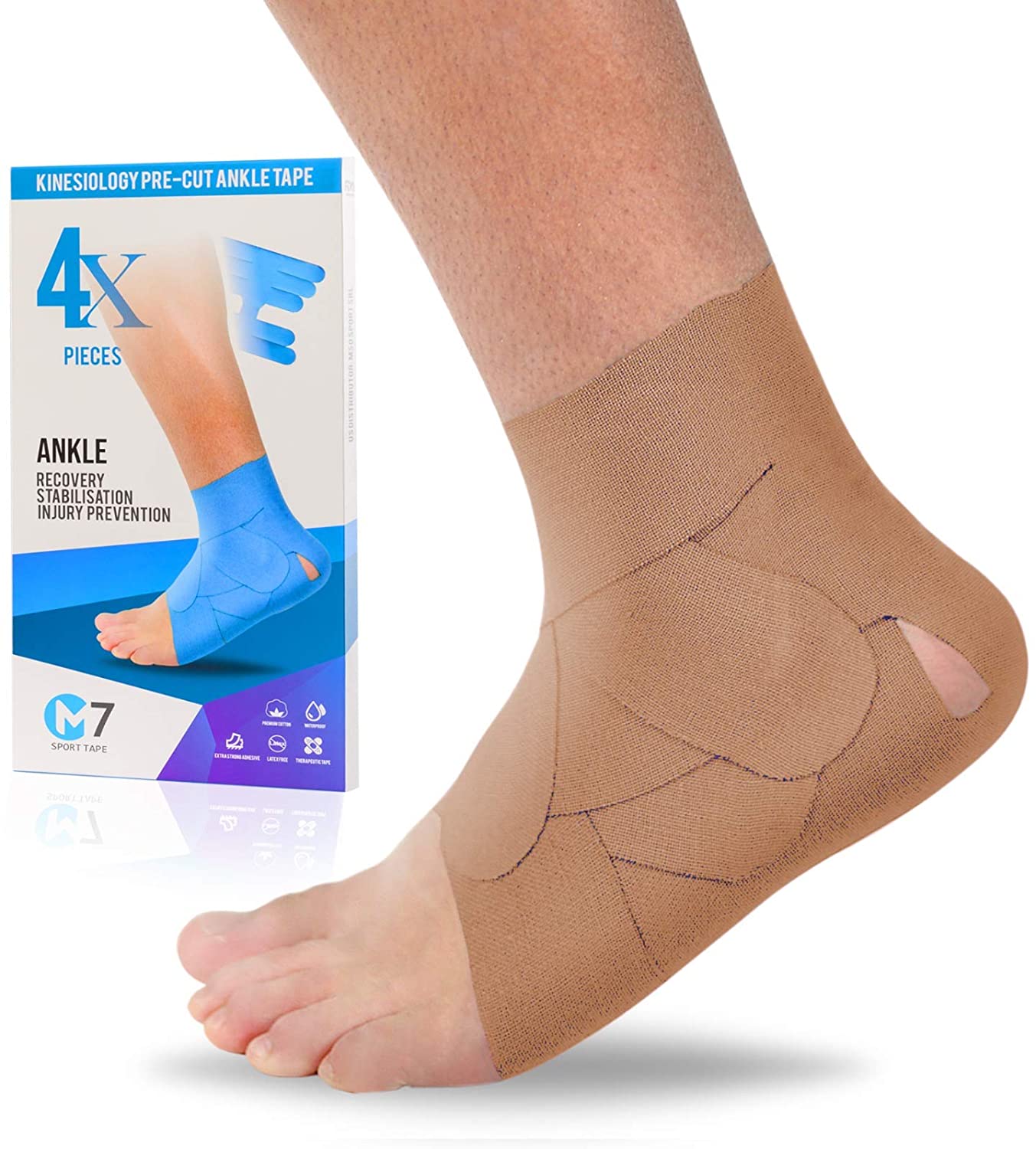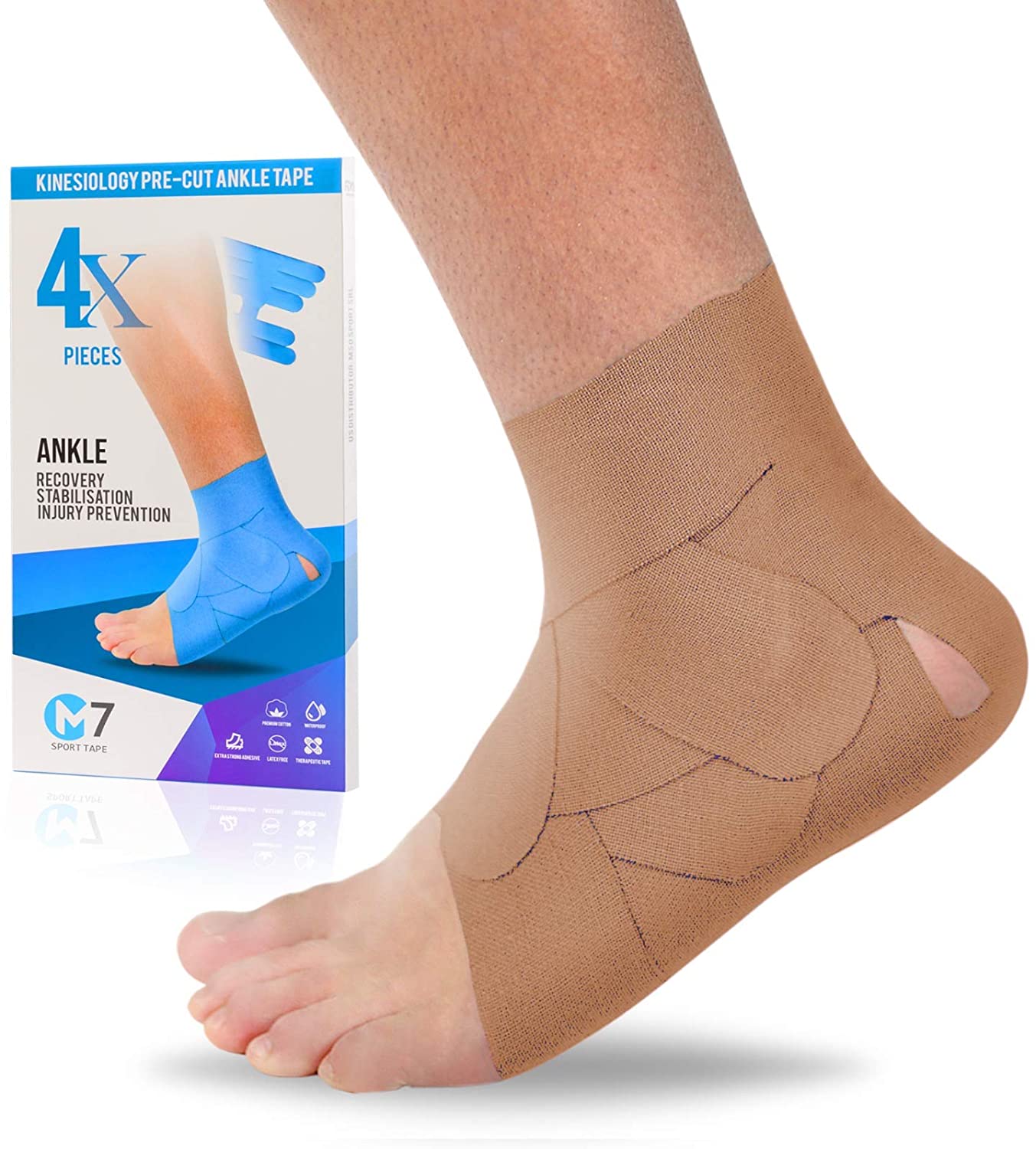 Testimonials
Check out some of our Client Reviews
I ordered my M7 Sport Ankle Tape from Amazon.com and I started to use it when I had an ankle sprain (very painful experience). The good thing was that I had my ankle brace and I use it right away.
I started to feel some discomfort at the begging which I suppose was normal cause my ankle was in deep pain, but in a few hours, I felt much better. M7 Sport Ankle Tape decreased pain and disability after few hours of wearing. During the injury, I was wearing this ankle tape for 5 days, had showers and the most important thing I was able to walk (almost no pain). The tape was a big help for me!

I'd definitely recommend over any other tape I've tried and have rebought it several times. The quality is A+ for the price and will last you longer than the cheaper rolls that you'll have to replace more often. I fractured my ankle a few months ago and my doctor recommended using sports tape to help after the brace, and this is by far the best one I've tried. I've tested out SB box and a few others off Amazon but nothing comes close to the stability this one provides. Especially since I have been swimming, I needed something that would last a few days and not have to be tossed out after a few laps every night. Plus this is the only tape that I've tried where the edges haven't come undone in 24 hours or less, and the precut design is also super convenient for getting support where needed.

A friend of mine recommended this product. At first, I was skeptical about putting it on. I wasn't sure I will be able to get all the steps right. Each step is carefully designed and explained. The video on their website was very helpful too. What's most important is that my ankle recovered much faster than the typical ankle sleeve I used to wear. So happy I got to try M7 Tape!